Was
Finally
yesturday
Booked the tickets back in May
Thought the day would never come
So me, Jessie, Akbar and David all set off together from Newbury Park
It's really not a long journey to the O2 but when you're excited it takes forever
So we got there
We got in quick 'cos no que
Me and David got a drink and then we went to sit down and watch Prima Donna
Who were okay bit odd but quite good
But me and Jess had a problem
We thought we weren't sitting together and one of us was gonna have to sit on the other side of the stairs
So we sat there worrying about the people coming to claim their seats
but then Jessie realised we were in the wrong row lol
We were sitting in F and were supposed to be in Q
so we climed up another few rows till like 4 near the back : and were more central and together, Yay :)
We also saw, out of the 20,000 people the O2 seats, the cirly haired blonde corridoor lady lool
She waved at us as we walked to our new seats lol
How random is that
Sitting just afew rows infront
So this pink bunny came on for abit which was funny
Then he went off and Jess said "I want them to come on now, I've had enough of waiting" and Bam the lights go down :D
and there they were
At first I didn't know it was Billie Joe 'cos he's dyed his hair Platinum Blonde and he was soo tiny from where we were
but soon figured it out
It looked like Tre's hair is back to normal from the Platinum blonde, I didn't like that
So yeah
They were A-MA-ZING
WOW
I Love them soooo much
and to see them was just WOW
I still can't believe I have
They played alot of their old stuff, YAY
and only the songs I liked off the new album and one I didn't know in the encore, Woo!
There's so much to say about it I jus don't know what to say
They did King For a Day which was immmennnsssee
and they had different hats!
They did alot of things they did at Milton Kenes and I've seen Bullet in a Bible so much I knew some of the things they would do :D
like the
BIG
Heeeeyyyy Hooooo
Which was fun
and at the end he said
"And That's Why You're Better Than America!"
Damn Straight!!
I also started to see Spots
and then it got worse and everything went blurry and I had to sit down, when Jesus of Suburbia finished of course, and still saw a few spots but it eventually stopped once I cooled down
So I nearly passed out at Green Day and I wasn't even on the floor! I was on level 4!
they also got loads of people up on stage :(
I wish it could have been me
Was so jeallllouss
Ohh and Tre was wearing his red converse
and so was I
yay :D
See I'm just adding bits 'cos I just don't know how to write it all down
But it ended and we left and Akbar had lost his voice lol
So we got the train home
and out of all the people we saw the curly haired corridor lady again! in our carriage
and she came and talked to us for a few minutes
David left us at Stratford and we got on central line to Nebury park
then when we got off we walked to Maccy D's 'cos we were so hungry and thirsty and walked through the Drive Thru
Which was v funny
And the people in the cars got annoyed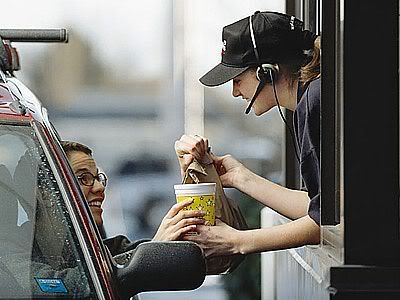 So it started to rain and Jessie's dad picked us up and then home
Very Fun :D
now I have to go to depressing work
I'm going to try and just think about last night to get me through it